As many of you may or may not know that I am relatively new to Seattle and the state of Washington! With a fresh pair of eyes, an open and adventurous heart, and many weekends out hunting for locations for outfit photos, I have got to say I have discovered quite a handful of cool 'photogenic' locations right in the heart of the city. I think it would be a cool idea to share along with some of my outfits that I've shot there, so hope this helps you whether you're new or native to discover some new places for your next outfit photos. Sometimes, a great photography spot is just around the corner, and you've just got to look harder and be creative in the way you shoot and pose!
1. Memorial Stadium
401 5th Ave N, Seattle, WA 98109
We were also lucky to be able to sneak in twice for two outfits here before people started collecting tickets for those who went in to see the soccer game. This huge creamy white flower bush (did I say it was huge?!) was just right next to the side of the playfield, and the cool rusty-looking wall located near the back entrance.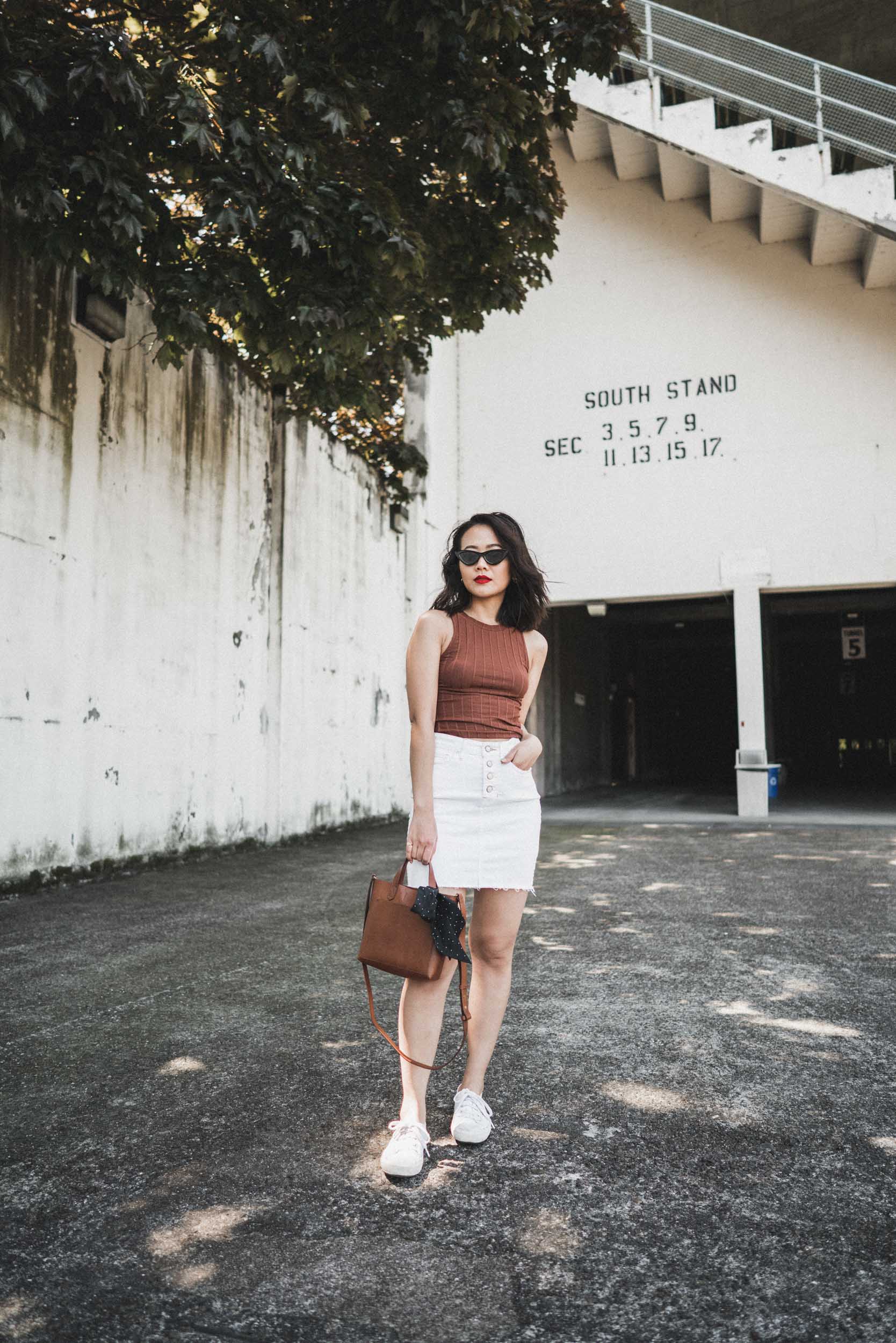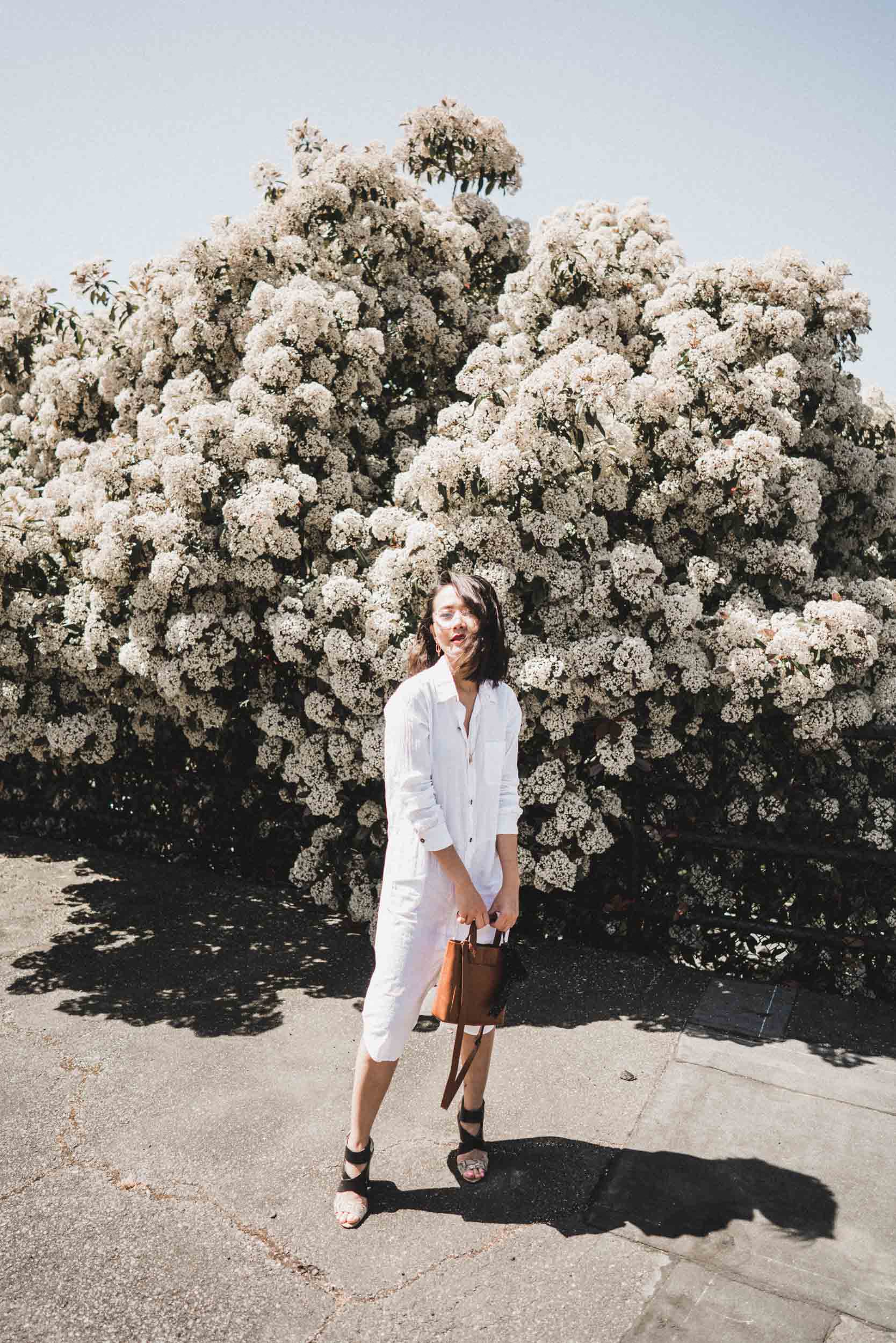 2. Volunteer Park & the Conservatory
1400 E Galer St, Seattle, WA 98112
Besides the gorgeous spring flower scene everywhere around the park, my favorite spot has got to the conservatory, the cactus section. For those who have a DSLR camera, I am pretty sure you have to pay a few dollars fee to enter. We went in for free since it was wide opened for some reasons on Mother's day Sunday. Since the park was so packed that day, we ended up shooting the second outfit 'on the tree,' like literally, I had to jump so many times to get-the-shot regardless of many stares. People were probably thinking that I was either crazy or looking too cool in the Outdoor Voices set, hah! Luckily, there were quite a few cool trees with huge branches, and the sun did us a favor there too!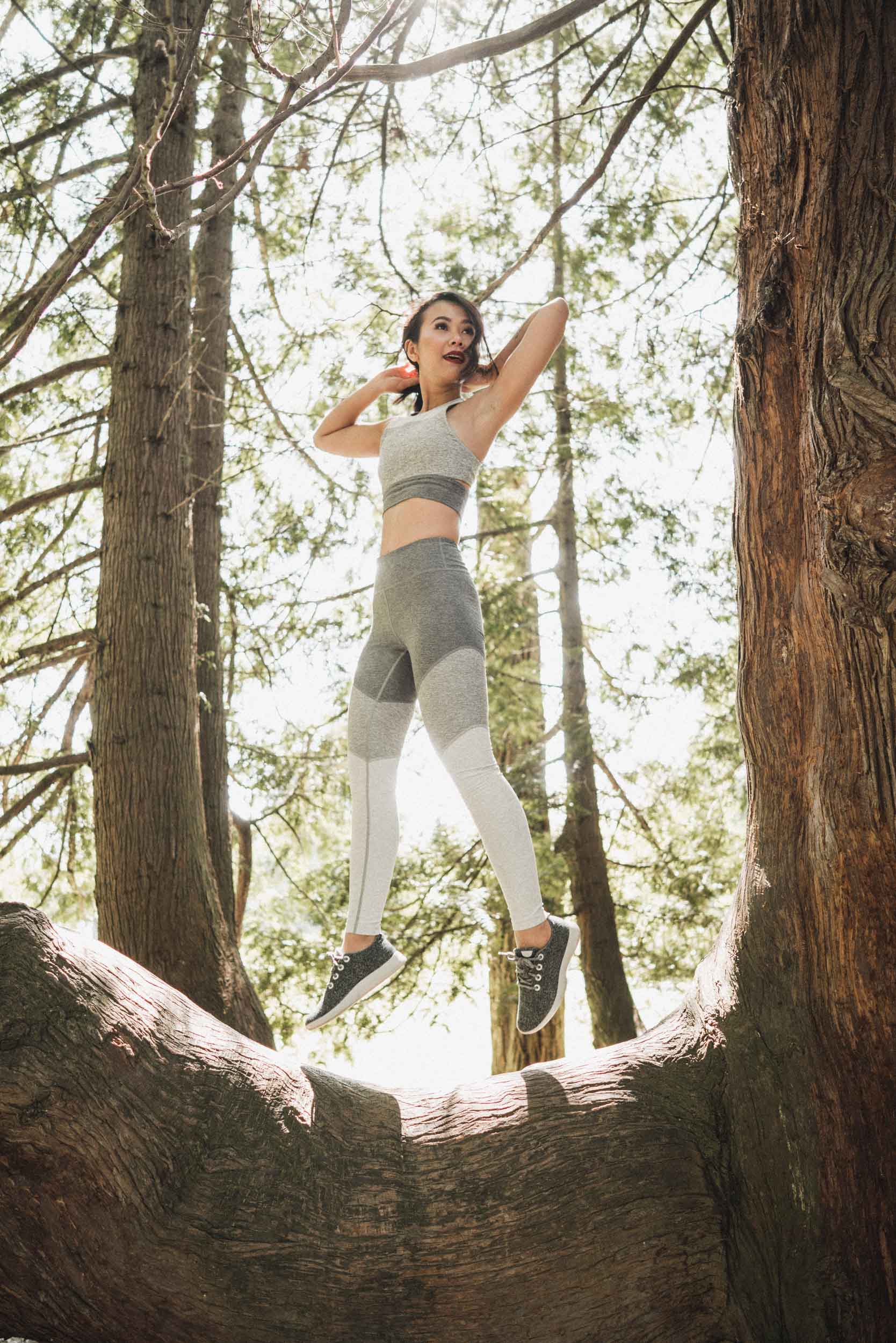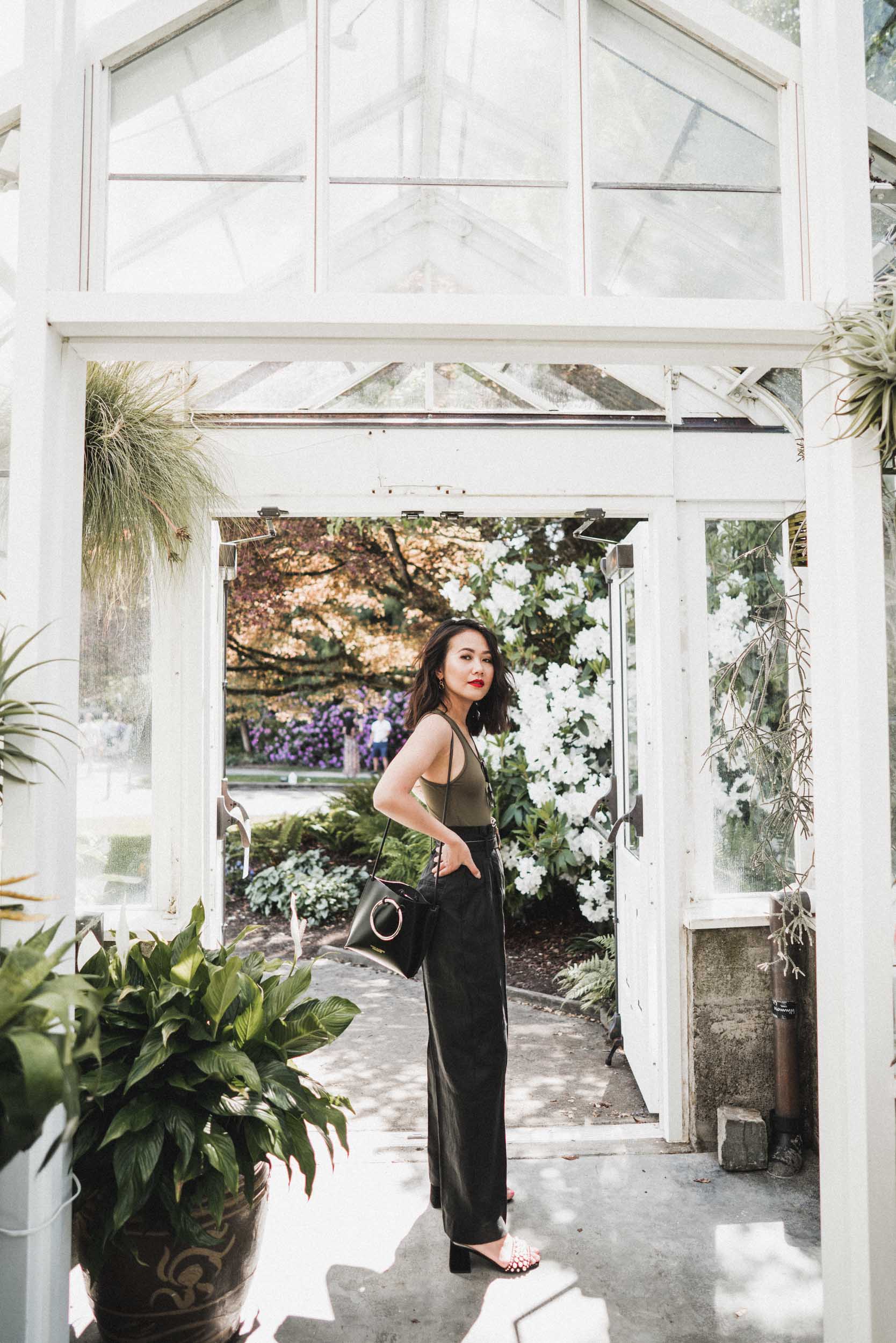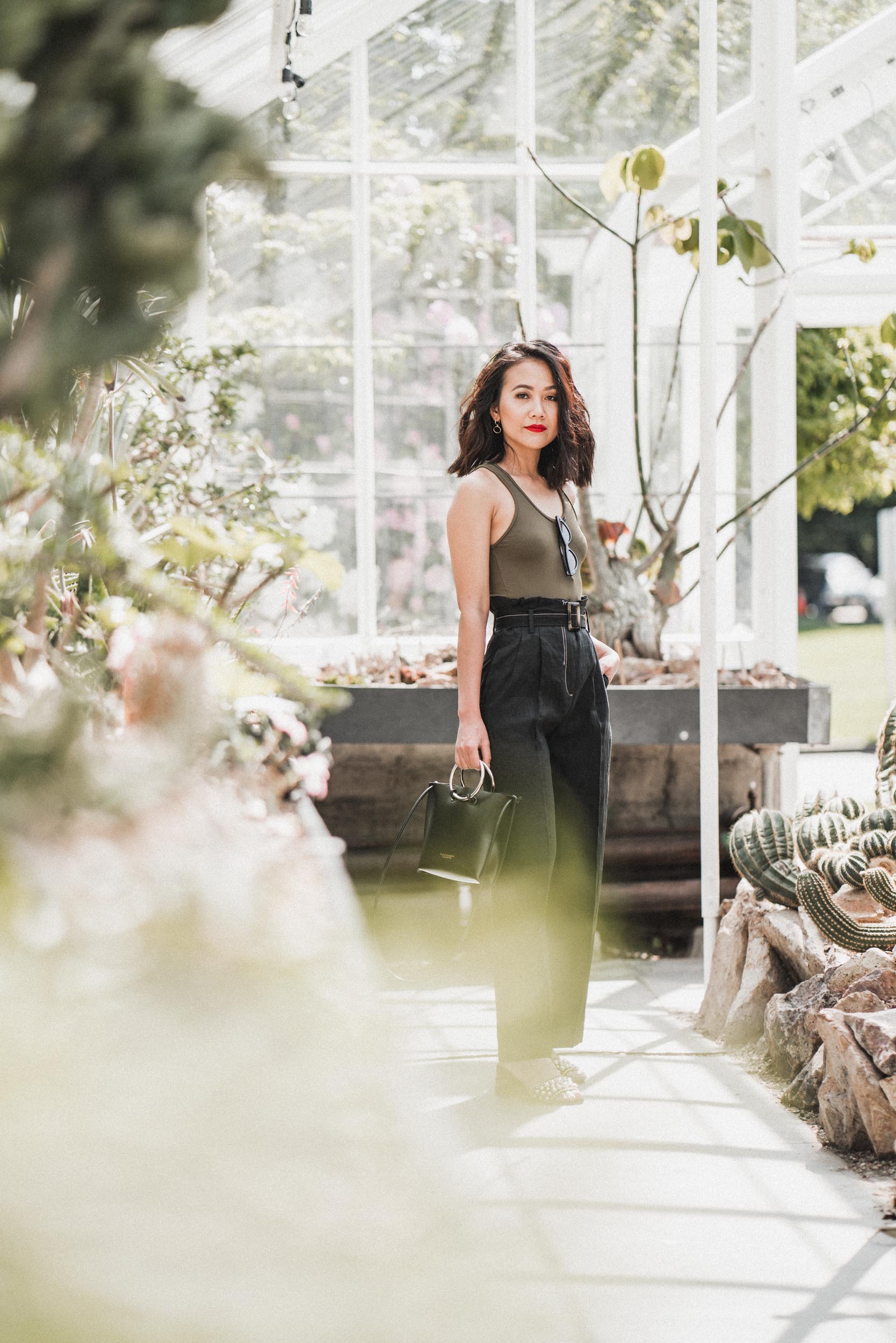 3. Daybreak Star Indian Cultural center
5011 Bernie Whitebear Way, Seattle, WA 98199
This is a Native American Cultural Center located in Discovery Park. I just stopped by for a few minutes to shoot this outfit and left as the building was closed for the day.
4. Pacific Science Center
200 2nd Ave N, Seattle, WA 98109
Located in the Space Needle area, the below location is right next to the ticketing area near the entrance of the Pacific Science Center. We wanted to go in but could not without purchasing tickets, but that also sparked another creative opportunity using the given architecture as the background, playing with light and angles. Except I really need to work on my facial expressions and poses, hah! Also, don't forget to try the back entrance near the parking lots as well. Notice my white and green outfit pairing matched the greenery and white walls and white metal fences and rails here?!
5. Freeway Park
700 Seneca St, Seattle, WA 98101
We have shot here twice now! One was in the fall, and the park looked so dark and boring. Spring days with sun in at its full-force is a completely different light game! My boyfriend shot me in the below outfit standing further outside utilizing the light reflection from tall glass buildings that bounced off and right into the Brutalist fountain area. That was the spot for the perfect 'soft' light setting of many photographers' dream. The tip is to make sure your face gets the light!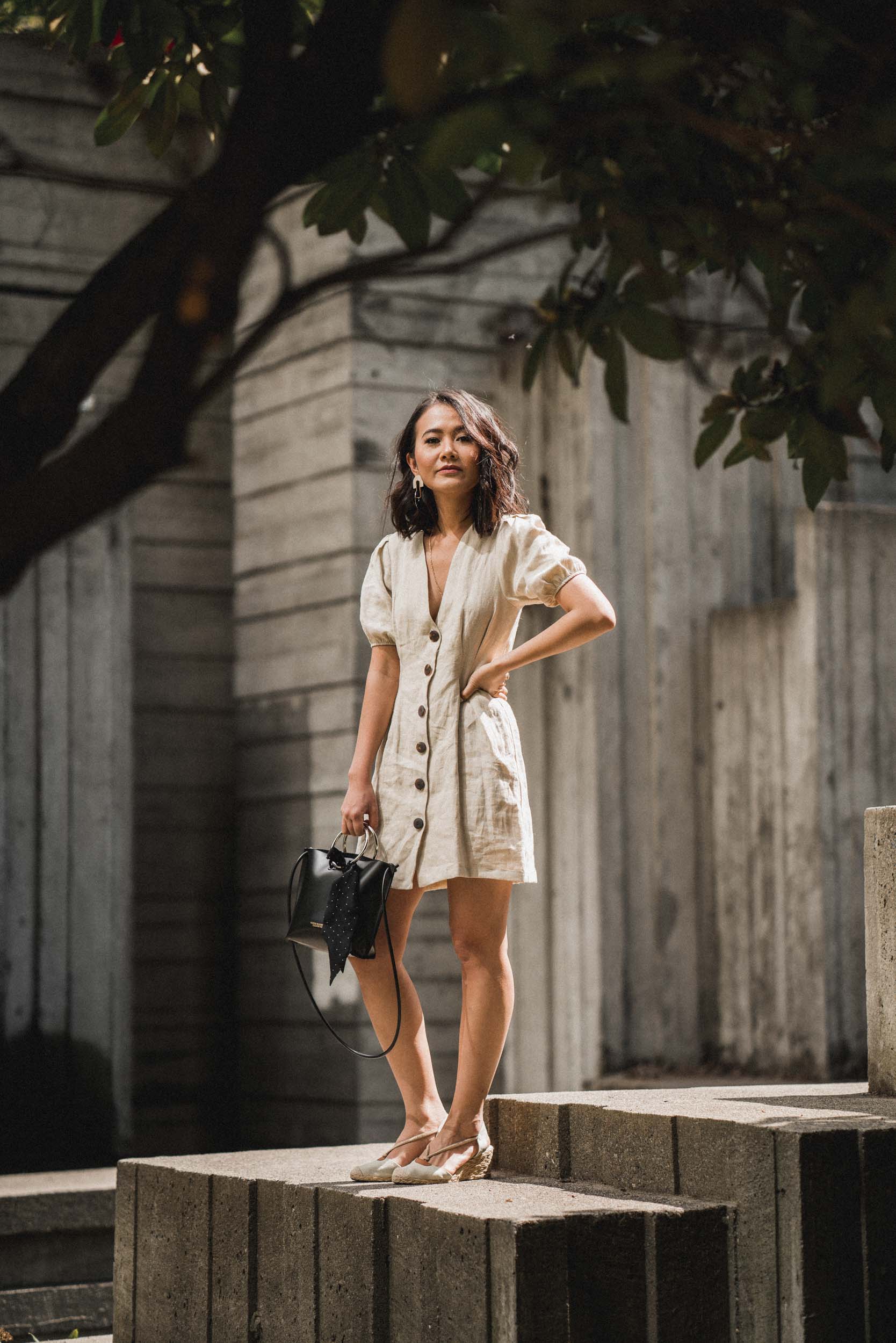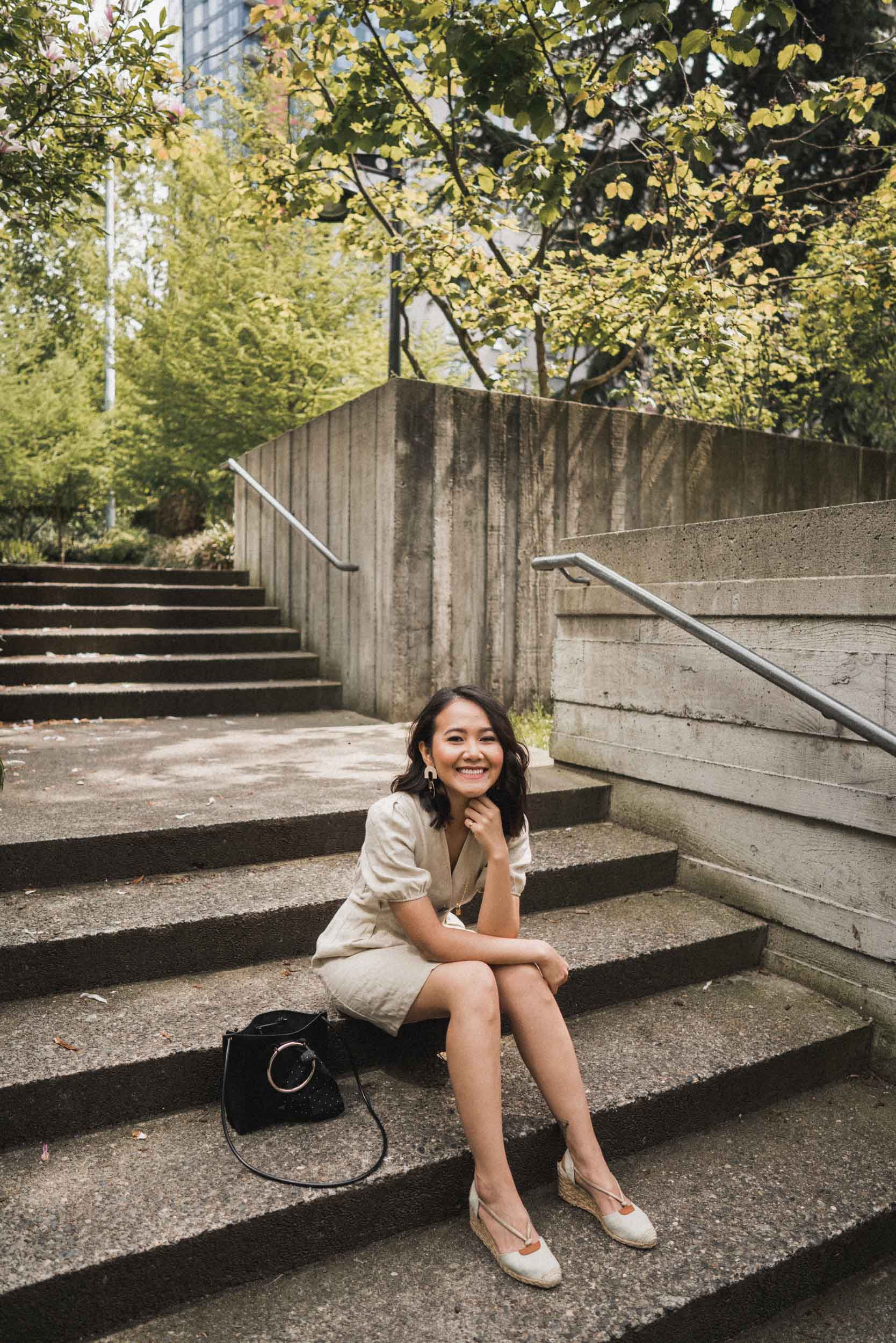 6. Chophouse Row
1424 11th Ave, Seattle, WA 98122
I went in here to check out the shop Moo-young on its opening day per their owner's invite couple of months ago, and that was how I knew of this cool little-hidden photo spot. This outfit was shot in the winter on a typical rainy and cloudy day, but I am sure it gets good lighting here in the spring and summer! Make sure you walk towards the deck area in the back and check out all of the shops on the way! I love it here!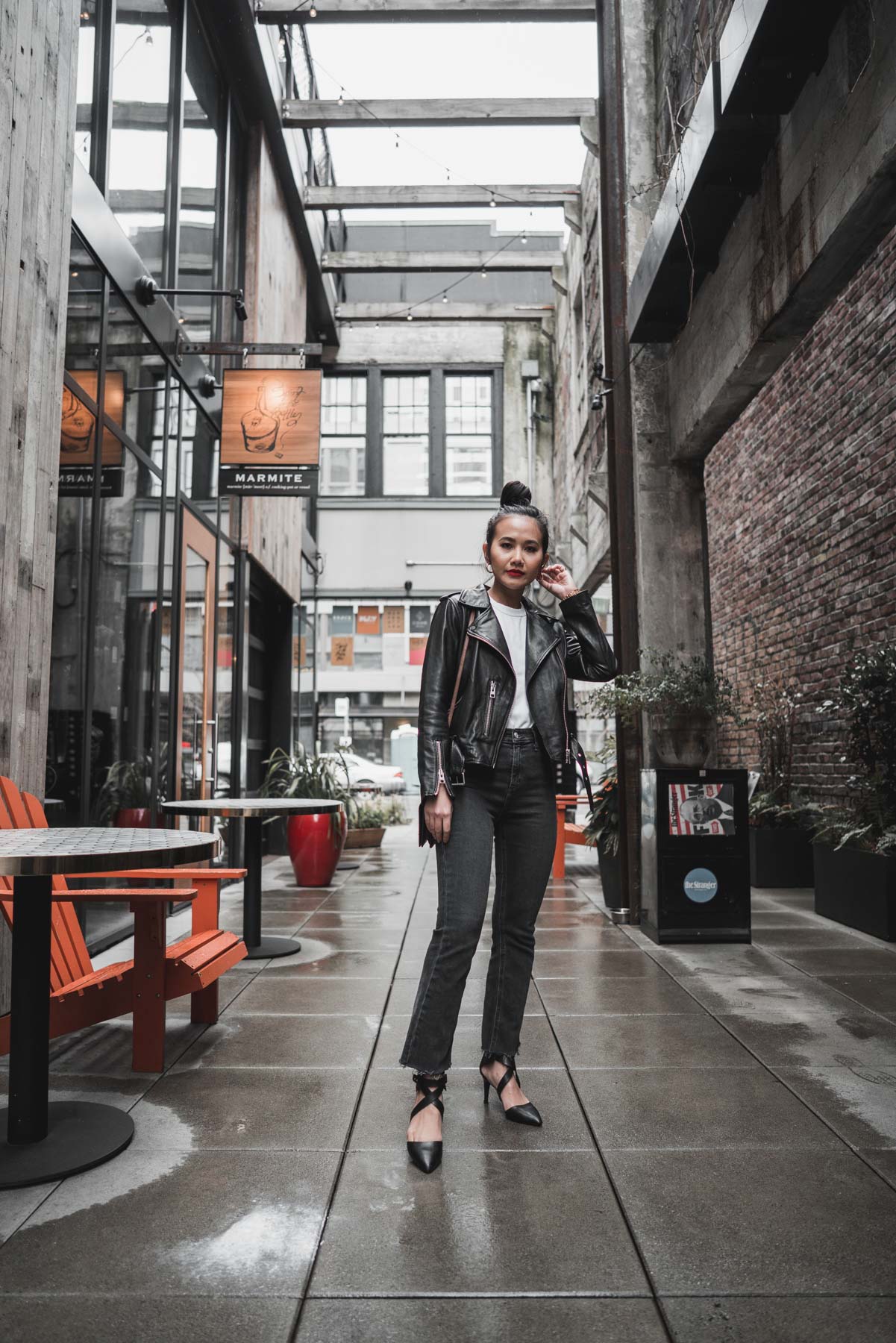 7. King Street Station
303 S Jackson St, Seattle, WA 98104
We are going back in time when my hair was so long and that I was able to throw it in a high bun. King Street station is another iconic location here in Seattle. Parking is tricky I have found, but once you find a free spot on Sunday, your day is golden! I have seen many people shooting inside of the station, but I find it gets very crowded in there. Below photos were shot outside in the back of the station. I thought it was a nice breaker. Notice that that color of my outfit also was similar to the background?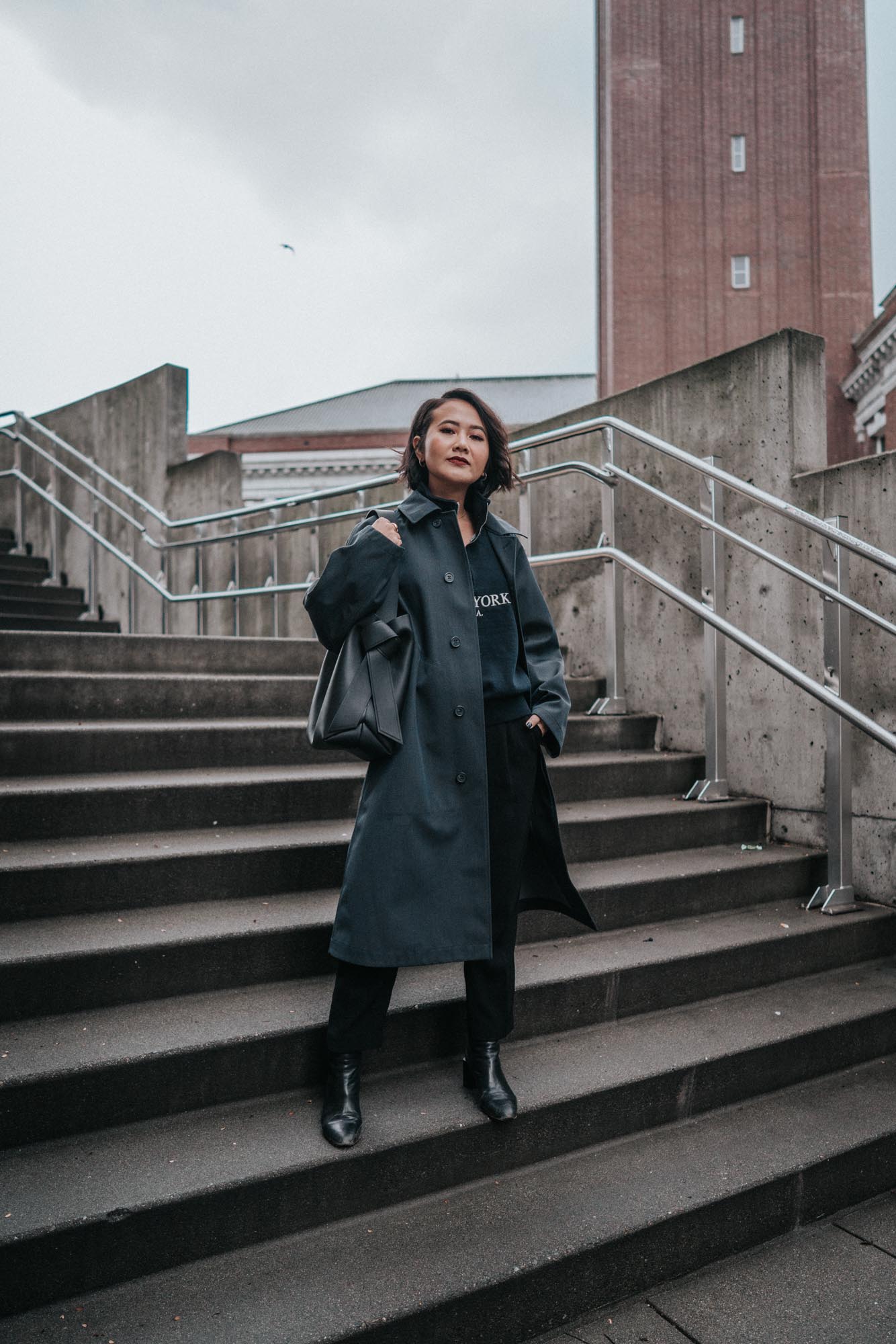 8. Harbor Steps & Lecosho Restaurant:
89 University St, Seattle, WA 98101
We love stairs! This area sorts of reminds me or makes me think of Japan because there is a huge cherry blossom tree that blooms so large in the spring. 
9. Rooftop Garage on Pine and 3rd St.
And this particular one I have gotten so many DMs on Instagram from you guys asking about this location, so here it is: at Pine street and 3rd ave. We love shooting on rooftops of garages for plenty of reasons, such as: free to enter anytime, no crowd, wind moments, and really good lighting.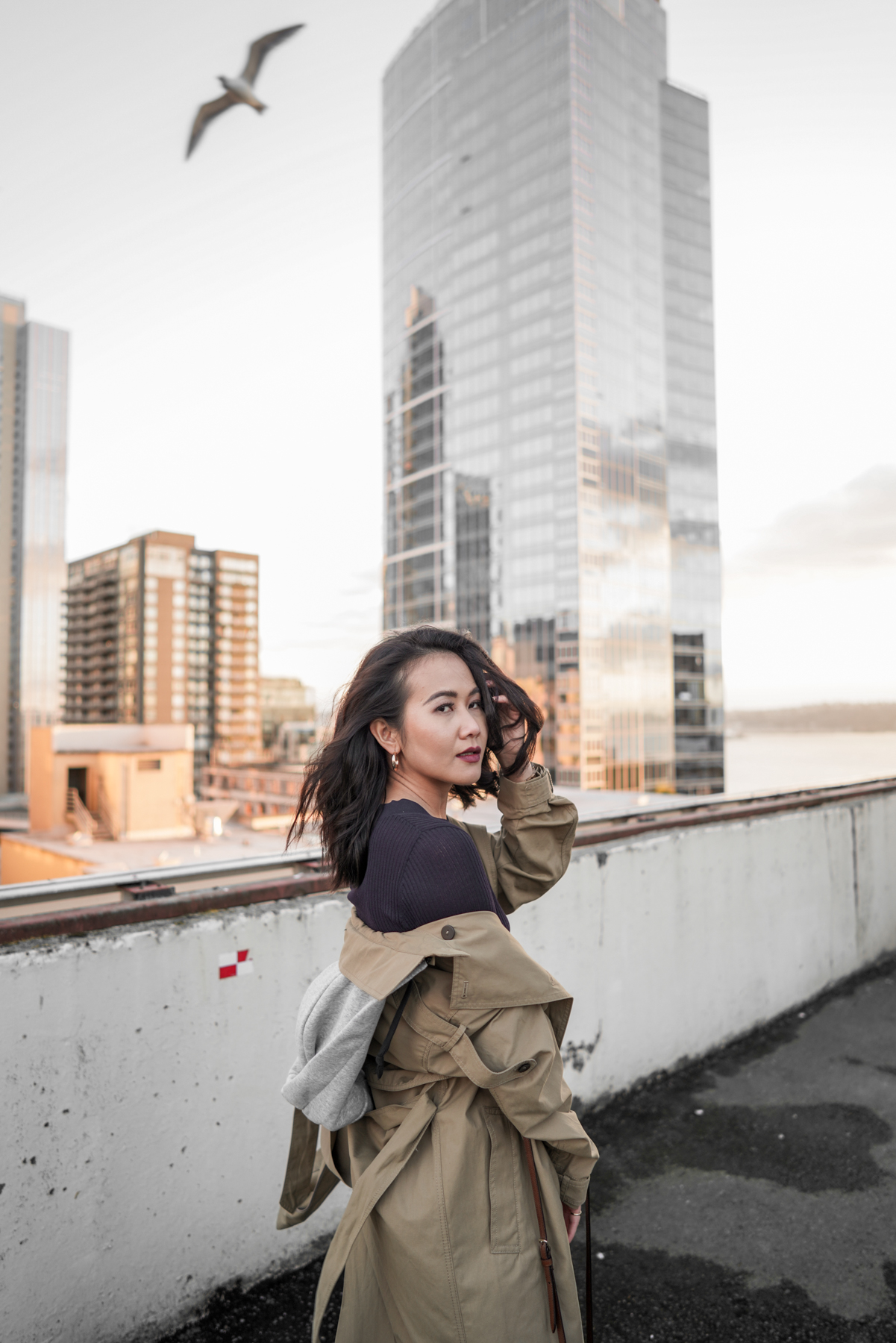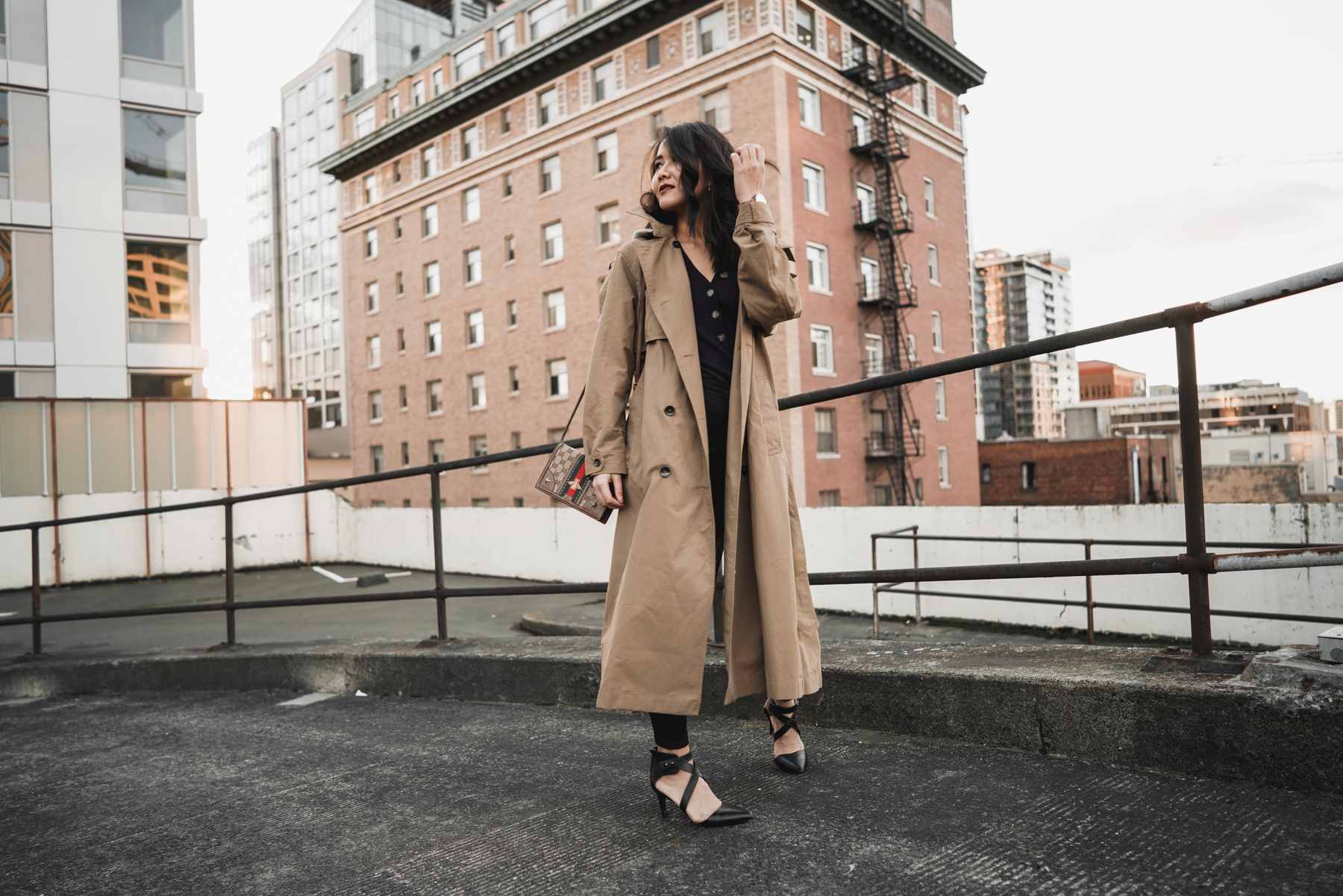 10. Olympic Sculpture Park
2901 Western Ave, Seattle, WA 98121
Olympic Sculpture Park is an outdoor sculpture museum created and operated by the Seattle Art Museum. It's a public park and located near the waterfront of downtown Seattle.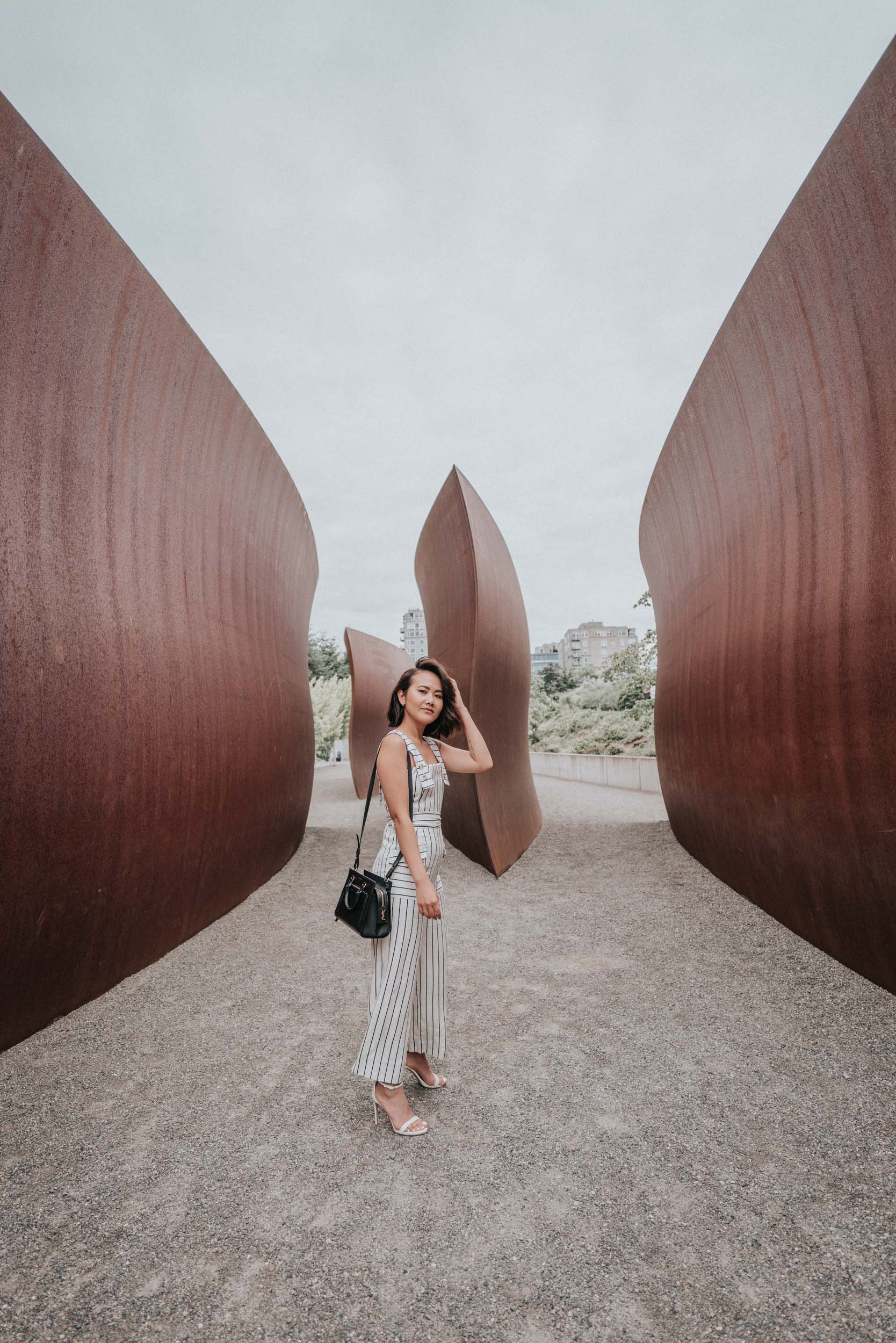 I hope that you took some notes on the locations I have suggested above. I'd like to keep a good mix of different types of locations, some popular and not-so-popular ones, and of course, I would love to have you back next time!
READ MORE: